The trouble and truths of O. Henry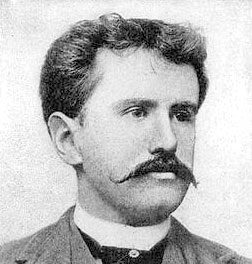 Loading ...
April 2021 – William Sydney Porter, otherwise known by his pen name, O. Henry, was a short story writer.  Born on September 11, 1862 in Greensboro, North Carolina, his stories often talked about regular people in New York and frequently had an unexpected ending.  Ironically, his life had an interesting ending itself, almost like a story he would write.
O. Henry was taught by his aunt.  He worked as a clerk in a drug store before going to work at the First National Bank of Austin. Most people do not know that O. Henry was arrested for embezzlement when he worked at that bank. He complained about the careless operation of the bank and how anyone could just walk in and steal the money. So, that is what he did. Embezzlement is when someone who is in charge of the finance of a company steals the money. The reason it is hard to catch is because it seems like no one is doing anything wrong.
He later started a magazine called the Rolling Stone.  People did not know where he got the money to support his magazine enterprise but think he used the money that he embezzled. His last issue of the Rolling Stone was published when he got fired from the bank. When people found out about the theft, he fled to Honduras, which is located in Central America.
He then came back when he got word his wife was sick with a terminal illness. He was sentenced to five years in jail. He was very embarrassed about being in jail, and he never saw any of the other prisoners.  He even told his daughter he was going someplace else to write. He wrote in jail to earn money for his daughter and his writings became very popular with magazine readers.
After getting released from jail, he moved his family to New York to start anew where he worked for New York World. O. Henry then published his books of short stories.  O. Henry died on June 5, 1910, and even though he had been a convicted felon, his writings were so popular that there was even an award established in his name.  The O. Henry award was established in 1919.  The most famous person who won the O. Henry award is Stephen King.
Here are some links to websites about O. Henry.
Review of two of O. Henry's Stories
A Strange Story
A Strange Story was published in 1912.This story starts out sad, but then turns sweet. In this story there is a 5 year old kid, and she has two parents. Sadly, the kid falls ill. This story explains what happened to the kid. This story, like all of O. Henry's work is very descriptive, as well as touching.
Rating: 4 out of 5 stars.
Lord Oakhurst's Curse
This story is not long but certainly eventful. O. Henry's work is characterized as having twists at the end of the story; this short story is certainly no exception. In this short story, King Oakhurst lay on his deathbed. His wife moved around the room. The beginning of this story is a little slow, like any exposition, but towards the end it gets fast paced and exciting.
Rating:  4 out of 5 stars
Leave a Comment