Review: What is the best pizza in Austin?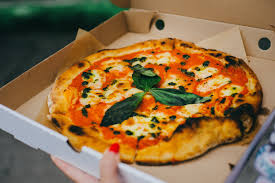 In this review I will talk about three pizza places: Homeslice, Via 313, and Dominos.
Dominos: If you want great pizza at a great price, try Dominos! The best thing at Dominos is the sauce on the pizza. The crust is good, but it is pretty dry. They also have a thin crust option that I tried and the crust is gross. It tastes burned and is too crunchy for my liking. Compared to the normal hand tossed pizza, it is a waste of money. So, I say if you want real Dominos pizza, get the hand tossed.
Homeslice: First of all, the moment I bit into the perfectly made crust I knew that it was the best piece of pizza I've ever had. This perfect New York style pizza will make your mouth water, the sweet sauce is splendidly combined with the salty crust and cheese. However the only problem is it is probably one of the more expensive pizzas in Austin but in my opinion it is  100% worth it!
Via 313: At first glance it looks like something from another planet if, like me, you're used to New York style pizza. To be more clear it is like this: there is a spongy inch thick parmesan coated crust, cheese, then the sauce on top of the cheese. It has a really unique taste and might take a little getting used to, but after a slice or two this might just be your new favorite pizza.
Overall, I personally think Homeslice is the best of these pizza restaurants, it has no flavor or quality downsides to it, even though it is a little more pricey I think it's worth it. so if you are going to have a pizza night, go and get Homeslice!
Leave a Comment